Embark on Our Authentic Fishing Tours
Immerse yourself in a unique and immersive fishing journey with Naxos Fishing Experience. Our tours are not just about fishing – they're about experiencing the age-old traditions, the camaraderie, and the thrilling lifestyle of a true Naxos fisherman.
From the calm, ethereal beauty of a pre-dawn departure to the suspense and triumph of lifting the nets filled with the bounty of the sea, our tours promise an adventure like no other. As we dock near a tranquil beach, enjoy a refreshing swim or watch as we skillfully untangle the catch of the day from our nets.
Our tours cater to a variety of interests and comfort levels. From a day-long experience where you follow the sun from dawn till afternoon, to the ultimate 18-hour fishing adventure for the most intrepid souls. For those seeking a more personalized experience, our flexible private tours can be tailored to your preferences.
Each journey comes with a hearty snack, a refreshing soft drink, and water to keep you fueled, and you'll even get a share of our catch to take home. Whether you're an early bird, a sunset lover, or someone seeking a unique and engaging experience, we have a tour for you.
Communication is key to an unforgettable experience. To make your journey smoother and more enjoyable, we offer our tours in English, German, and Arabic. We want to ensure you feel at home while you're with us, so don't worry - we speak your language!
Set sail with us and explore the thrilling life of a Naxos fisherman. This is not just a tour - it's a tradition, an adventure, and a glimpse into a way of life deeply connected to the sea. Join us at Naxos Fishing Experience - where every trip is a new adventure!
Sunset Fishing Tour
Join us for an enchanting journey that begins around 15:00 in the afternoon. Together, we'll cast out the nets, immersing you in the authentic experience of a Naxos fisherman's life.
As the day turns to evening, we'll head to a secluded and picturesque bay. Here, you can unwind, swim in the crystal-clear waters, and soak in the serene beauty of the surroundings. It's a perfect opportunity to rejuvenate your senses amidst the tranquil Mediterranean setting.
The highlight of this tour comes at sunset 🌅. As the sun dips below the horizon, we'll gather our nets, brimming with the day's catch. The scene is nothing short of magical as the sky is painted in hues of orange and pink. The setting sun casts a warm, golden glow over the tranquil waters - an unforgettable moment to capture and cherish.
We'll return to the port around 22:00, concluding this truly special experience. Our Sunset Fishing Tour is an extraordinary way to not only witness a breathtaking Mediterranean sunset but also to actively participate in the age-old tradition of fishing. Join us for a journey that's bound to leave you with lasting memories.
Join us before sunrise, as we set out from the port of either Agia Anna or Chora (depending on weather conditions) to raise the nets we had cast the previous night. Enjoy the serene morning hours at sea, then relax or swim while watching us untangle the fish from the nets. Return to the port by 1 pm, with your share of the catch, a sandwich, soft drink, and water.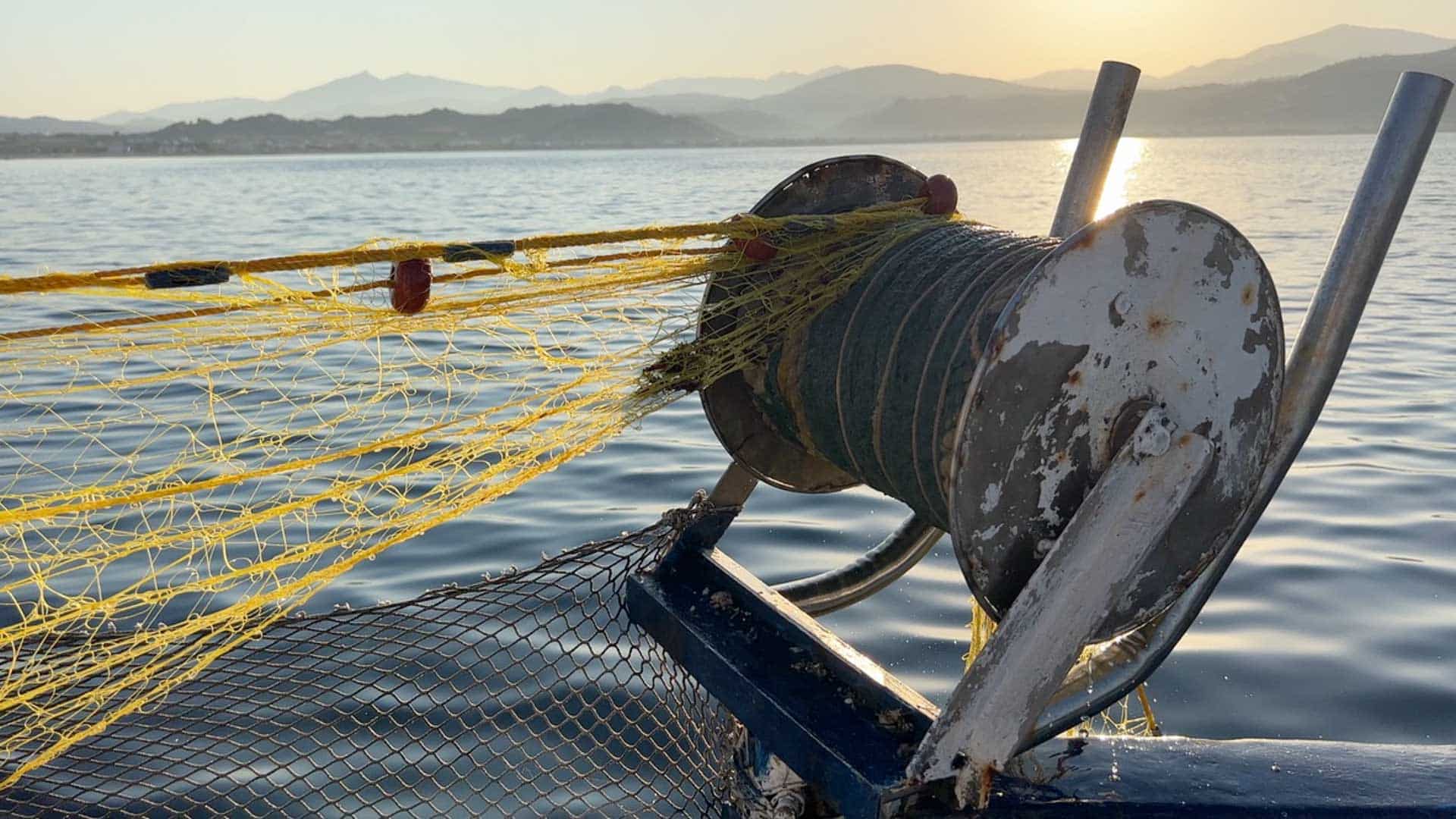 The Ultimate Fishing Adventure
For the truly adventurous, join us for a comprehensive fishing experience from afternoon until 11 am the next day. Experience the full cycle of our work, a rewarding 18-hour adventure!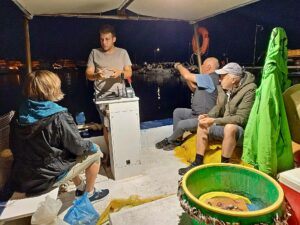 Flexibility and Customization
We are delighted to accommodate your preferences with private, customized tours. Discuss your wishes with us, and we'll tailor a fishing tour to your liking, with corresponding charges.